AVP Geneau Thames, Esq. Reappointed to Maryland State Ethics Commission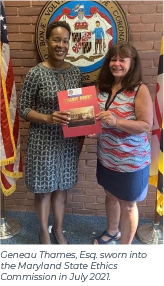 Harford Mutual Insurance Group Assistant Vice President, General Counsel, and Secretary Geneau Thames, Esq. has been reappointed by Governor Larry Hogan to serve another term on the Maryland State Ethics Commission.
The State Senate Executive Nominating Committee renominated Thames, and she was sworn into the Commission in July. Thames will serve a five-year term.
"It is a tremendous honor and privilege to be reappointed to the State Ethics Commission and I look forward to continuing to serve the citizens of Maryland in this important endeavor," said Thames.
Thames was first appointed to the Commission back in 2019. The Commission consists of five members, who are all private citizens. The Commission investigates alleged violations of the Maryland Public Ethics Law and meets approximately six times per year.