Message From the President
ALRIGHT. ALRIGHT. ALRIGHT
I started 2021 listening to the book "Greenlights" by Matthew McConaughey and sharing his philosophy on seizing the day and moving forward in my first quarterly report to the HMIG team. It was an enjoyable read and the positivity felt appropriate after what we thought was the beginning of the end of the worst of the pandemic. But, as COVID variants surged across the country and our return to office plans were continually kicked down the calendar year, the light-hearted life lessons McConaughey imparted were more appreciated than expected.
A greenlight signals you to advance. Carry on. Continue. With spirits high from the success of 2020, we shook off the COVID cloud and greenlighted our commitment to living our core values and protecting our culture in the new environment, bringing us to a successful conclusion to 2021.
We marked another year of the Harford Mutual team effectively working fully remote while adding 25 new employees to our ranks. Postponing the full reopening of the office gave us ample time to complete extensive upgrades and renovations while rebranding the building with our new name, logo, and colors. We worked to create a space that our employees can be proud of when they return and that incorporates the critical technology that will help facilitate innovation and collaboration for those in the office and those working off-site.
We engaged our employees as diligently as we did when COVID started, conducting a series of virtual Town Halls; hosting our traditional Education Awards (virtual) and Service Awards celebrations (outside); and playing to the nail-biting finish in our always anticipated bocce ball tournament to benefit Helping Up Mission in Baltimore. We moved our training online and were able to host three summer interns, two in Underwriting and one in IT. These efforts were reflected in our Employee Engagement results of 97% participation and 90% overall engagement score for the 2nd year in a row.
Our strategies to live our purpose, along with some good fortune from Mother Nature, resulted in very strong 2021 numbers outpacing plan at nearly every metric. Our underwriting profitability and investment gains resulted in our Policyholders' Surplus eclipsing $365M with a $45.3M, 14.2% increase for the year – exceeding our plan by more than $26M. Over the past three years, surplus has grown by over $143M, 65%. In 2021, we realized $290M in Direct Written Premium, $51M in New Business—a company milestone—and 91.3% Premium Retention. These results are more impressive considering the hardening in the market with increased severity from weather events, changing economic conditions, and an ever‐worsening legal environment driven by social inflation.
Our Southern Region growth has been nothing short of extraordinary with Georgia breaking through the $20M mark in less than four years and the entire Southern book reaching 29% of our total portfolio. In the North, New Jersey exceeded $40, up 23% over prior year; and, across all states, Middle-Market exceeded $100M in DWP, surpassing Foundation to become our largest business unit.
The numbers speak for themselves but combined with the incredible efforts of our entire team, the true Harford Mutual story starts to emerge. Harford Mutual Insurance Group was named to the prestigious Ward's 50 list of top-performing property and casualty companies for 2021. Nearly 3,000 P&C carriers are reviewed with only those exceeding in safety, consistency, and performance receiving the top distinction. Additionally, we were honored with awards from Gracechurch Consulting for superior claims service; the Andrew Klein Legacy Award for our unwavering philanthropy and community commitment; the Novarica Impact Award for our new policy underwriting system; the National Association of Mutual Insurance Companies (NAMIC) Award in Innovation for our HR Pipeline & Perpetuation plan; and the Rising Insurance Star Executives (RISE) Elite 50 Internship award for our internship program. Individually, each award is something to celebrate. Collectively, they tell the story of our commitment to excellence and our goal of being the regional carrier of choice.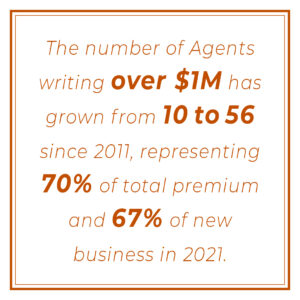 2021 saw the completion and delivery of several strategic initiatives from our VISION 2027 plan. We celebrated a full year of the dramatically improved and efficient RapidWrite online rating system, doubling application submissions and reaching 56% straight-through processing without underwriter intervention. We have 30% of our agencies taking advantage of Direct Bill Commission Download and over 300 have signed up for faster payments with EFT. We completed our build out of the Special Investigative Unit with a Nurse Case Manager and increased surveillance capabilities saving the company more than $3 million in fraud prevention. We deployed the new Pay-As-You-Go program for Workers' Compensation and introduced EnviroPack coverage. Lastly, we expanded our Actuarial Department to keep pace with the analysis of our exposures and the increasing complexity of the coverages we provide, and we continue to develop our Customer Service Department to enhance the user experience for our agents and our policyholders.
In keeping with the strategic objective to ensure diversity throughout our organization, our Board of Directors implemented term limits that resulted in 60% of the existing board members ending their service within five years. We also welcomed the appointments of Jillian Froment and Teresa McTague to our Board of Directors, both seasoned professionals in the public and private sectors who have the depth and expertise to represent our policyholders now and into the future.
At every corner in 2021, we took steps to insure opportunities for growth, agency connection, improved efficiencies, employee engagement, and community giving. Looking ahead to 2022, we are excited to fully embrace our hybrid work environment that promises an engaged and balanced workforce, while ensuring that service levels and productivity are not negatively influenced. We will deploy another update to RapidWrite mid-year allowing for rating of package policies. And, we have recently started our legacy system replacement project to transform our Claims management systems to enable faster and more efficient claims processing, along with improved services and information for the agent and our collective policyholders.
Lastly, and on a personal note, I would like to extend a heartfelt "thank you" to everyone who supported the entire Linkous Family in our head shaving event for The St. Baldrick's Foundation. Vendors, agents, employees, and friends gave, helping us raise a record breaking $560,000! That incredible amount required the involvement of everyone, including the amazing sacrifice of my wife Sandi to "Brave the Shave" and remain beautiful inside and out. While our hair loss was temporary, the impact on the lives of children affected by cancer will be enduring. This is just one example of the mutuality that defines our company and our culture. And it is that principle of mutuality that will always be our lodestar for our future.

Steven D. Linkous
President and Chief Executive Officer