Harford Mutual has been named a Top Workplace for 2017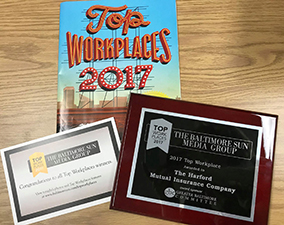 We're proud to announce that Harford Mutual Insurance has been named a Top Workplaces for 2017 by The Baltimore Sun. Accompanied by members of senior management, our President and CEO Steve Linkous accepted the honor last night at the award ceremony held at Baltimore Museum of Industry.
We thanked our employees who made this happen with a leather embossed notebook and a copy of the thank you ad that appeared in the special insert in the Sunday newspaper.