Harford Mutual Insurance Group Wins NAMIC Overall Award in Innovation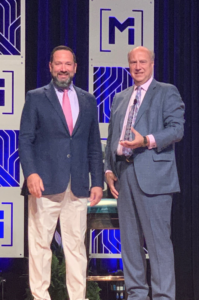 Harford Mutual Insurance Group has been named the winner of the National Association of Mutual Insurance Companies (NAMIC) 2021 Overall Award in Innovation.
NAMIC created the Award in Innovation in 2014 to recognize mutual insurers that exemplify the vision and entrepreneurialism it takes to stay relevant in changing times. Harford Mutual received the overall award for its innovative Pipeline and Perpetuation initiative. The goal of the initiative is two-fold: attracting new talent to the insurance industry and developing current employee leadership skills to promote company growth and ensure leadership perpetuation.
"We are extremely honored and thrilled to be presented with NAMIC's 2021 Award in Innovation," said Steven D. Linkous, president and CEO of Harford Mutual Insurance Group.
With the retirement of thousands of insurance industry professionals looming and a widening talent gap forming, Harford Mutual launched the Pipeline and Perpetuation initiative in 2013. As part of the cross-departmental plan, the company started an internship program, enhanced employee benefits, created a training program for new team members, formed a company leadership group, and developed a career pathing project. As a result, nine members from its leadership group have been promoted and 29 interns have been employed to date, 13 of which have converted to full-time employees.
"Our Pipeline and Perpetuation initiative is critical to our short- and long-term success and strategies. More importantly, it affirms our commitment to our team by ensuring opportunity for all as an important element of a vibrant, engaged, and empowered organization," Linkous said.
Award in Innovation criteria included impact in perpetuating mutuality, creativity of idea, project results, potential for the idea to be adapted and used by other NAMIC members, and alignment with the NAMIC Management Conference focus areas: strategy, innovation, leadership, industry trends, and the economy.
"Now, more than ever, finding creative ways to attract young professionals while also developing future leaders is vital to ensuring the successful longevity of our industry," said Chuck Chamness, president and CEO of NAMIC. "The innovative strategy meticulously executed by Harford Mutual to build its employee and leadership base serves as an excellent example of what keeps the mutual insurance industry moving forward."
To watch the award video, click here.