Harford Mutual Insurance Group Honors Employees with Service Awards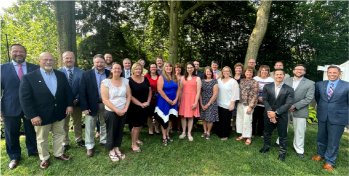 Harford Mutual Insurance Group recently recognized 21 employees celebrating milestone anniversaries and 285 combined years of service. Team members were honored for their years of hard work and dedication at the company's annual Service Awards Breakfast.
Gail Bianco, IT Product Owner, topped the list of honorees, receiving an award for 35 years of service at the company.
Employees honored for 25 years of service included Jennifer Berger and Debbie Brown. Award recipients for 20 years of service included Cheryl Amberman, Tracey Clark, Randy Sprouse, Donna Stein, and Jeneen Taylor.
Karen Kinney and Jerod Kuhlman were honored for 15 years of service. Laura Kurrle, Jennilee Sobczak, and Bryan Yekstat received awards for 10 years of service.
Five-year award recipients included Michael Bender, DJ Gargano, Greg Colelli, Daniel Gillen, Tony Orbino, Lauren Paige, Tyler Ray, and Sandra Taylor. The annual Service Awards Breakfast was held at Rockfield Manor in Bel Air, Md. It was the first in-person company event since the pandemic began.