Harford Mutual Recognized as a 2020 Top Performer by DecisionWise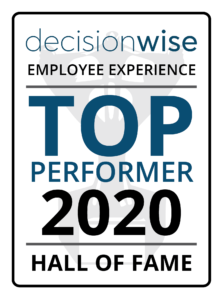 The DecisionWise Employee Experience Top Performer Award recognizes organizations for exceptional results in creating a stellar employee experience. Top performing companies have overall employee scores that rank in the 90th percentile or better.
Harford Mutual started working with DecisionWise in 2019 to establish employee engagement metrics the company could use to create strategic initiatives that aligned with the company's purpose, vision, mission, culture, and values.
DecisionWise is the global leader in employee feedback With corporate offices in the United States, and dedicated affiliate partners throughout the world. DecisionWise operates in over 70 countries and conducts employee surveys and assessments in over 30 languages. https://decision-wise.com/employee-experience-awards/