Harford Mutual Insurance Group Donates Over $500,000 to Charitable Organizations in 2020, Including $250,000 in COVID-19 Support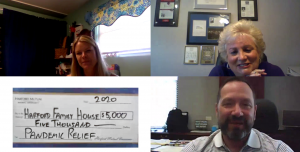 In a year of unprecedented need, Harford Mutual Insurance Group announced it has donated over $500,000 to 93 charitable organizations in 2020.
As part of the company's annual charitable giving commitment, $285,000 was given to its nonprofit partners as pledged. This included financial support to assist with health and human services, as well as community enrichment programs. The largest donations were presented to United Way of Central Maryland, the University of Maryland Upper Chesapeake Health Foundation, Boys and Girls Clubs of Harford and Cecil Counties, The Sexual Assault/Spouse Abuse Resource Center, Harford Family House, Habitat for Humanity Susquehanna, The Arc Northern Chesapeake Region, Harford Community College Foundation, The American Cancer Society, and Mason-Dixon Community Services.
In response to the COVID-19 pandemic, the company made the decision to commit an additional $250,000 for targeted relief efforts. A $50,000 donation was presented to the University of Maryland Upper Chesapeake Health COVID-19 Response Fund. Nearly $178,000 was dispersed to local and regional nonprofits in the states where they write business addressing homelessness, the digital divide, domestic violence, and mental health, including $20,000 given to first responders identified through their partner agencies. Another $15,000 targeted food insecurity and $10,000 in matching challenge funds for Giving Tuesday was also disbursed.
In 2020, the 178-year-old commercial property and casualty insurer also formed the Inclusion, Diversity and Opportunity Committee to create meaningful change through self-examination in the areas of inclusion and diversity at Harford Mutual Insurance Group. To support that effort, the company donated $10,000 to help students further their education and create more opportunities for the future. A $5,000 donation was gifted to The CollegeBound Foundation, which funds the need-based Last Dollar Grant program that supports Baltimore City public high school graduates annually for up to six years of college. A $5,000 donation was also made to support the LASOS Aspire program, a 16-week program for at-risk youth and young adults which provides support focused on language skills, GED and education studies, and job training. Harford Mutual employees also personified the company's value of community involvement by choosing to donate more than $12,000 in unused PTO to charities of their choice.