Harford Mutual Insurance Group announces industry and educational achievements reached in 2020.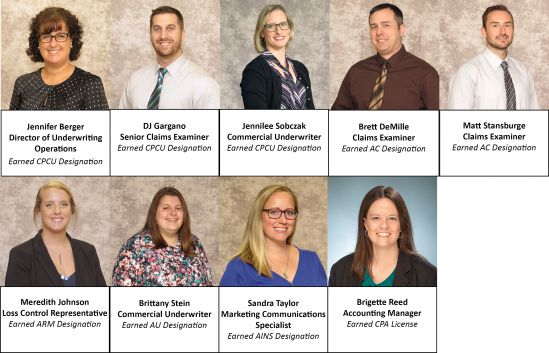 In 2020, eight Harford Mutual employees received industry designations from The Institutes, the continuing education provider of the American Institute for Chartered Property Casualty Underwriters (AICPCU). As the leading provider of coursework for the insurance industry, certification from The Institutes is the most recognized identifier of subject knowledge mastery for the insurance community.
Director of Underwriting Operations Jennifer Berger, Senior Claims Examiner DJ Gargano, and Commercial Underwriter Jennilee Sobczak earned their Chartered Property Casualty Underwriter (CPCU) designations.
Claims Examiners Brett DeMille and Matthew Stansburge earned their Associate in Claims (AC) designations. Loss Control Representative Meredith Johnson earned her Associate in Risk Management (ARM) designation. Commercial Underwriter Brittany Stein earned her Associate in Commercial Underwriting (AU) designation. Marketing Communications Specialist Sandra Taylor earned her Associate in General Insurance (AINS) designation.
Accounting Manager Brigette Reed also passed the CPA exam and was licensed as a Certified Public Accountant (CPA) in February 2020 by the state of Maryland.