Steve Linkous Named one of Maryland's Most Admired CEOs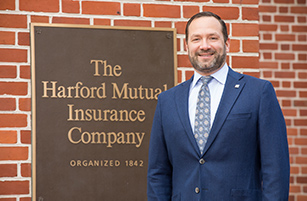 President and CEO Steve Linkous has been named as one The Daily Record's Most Admired CEOs for 2020. This is Linkous' first time receiving the honor.
"This year's Most Admired CEOs are known for their integrity, values, drive and commitment to excellence," said Suzanne Fischer-Huettner, group publisher of The Daily Record. "They are trendsetters, good listeners and agents of change who want to empower those who work for them, those they work with on community boards and those they mentor."
Linkous became only the 10th President of Harford Mutual in 2006. Under his leadership, direct written premium has increased 107%, policyholders' surplus has grown 209%, and significant underwriting profit has been achieved in 11 out of his 14 years.
In response to the COVID-19 pandemic, Linkous took swift action to ensure the security of employees, policyholders, and the community. Under his direction, Harford Mutual Insurance doubled its annual charitable community support to more than $500,000, reaffirming its scheduled 2020 give of more than $250,000 to their non-profit partners while committing an additional $250,000 to be directed to COVID-19 related relief agencies and organizations with an identified need.
Linkous also acted to protect Harford Mutual's employees. Prior to the statewide mandate, Harford Mutual enacted telecommuting, deploying its 170 employees remotely and remaining fully operational without any job loss. Innovative options were given to employees whose PTO would accrue beyond rollover limits as a result of canceled travel. Employees faced with financial hardship could elect to cash out unused PTO at 50% of the accrued value. Others who had a decreased need for time off, but no increased financial need, were able to donate 100% of their PTO value to charitable organizations of their choosing. This amounted to more than $12,000 in giving on behalf of employees.
Linkous sits on the board of trustees for Harford Community College. He was appointed to the nine-member board by Governor Hogan in 2019. Linkous is also on the boards of the Boys Scouts of America Baltimore Area Council, Maryland Joint Insurance Association & DC Property Insurance Facility, the NAMIC Mutual Insurance Foundation, the George Washington University Executive Leadership Advisory Board, and the Harford County Public Library Foundation. He is a former board member and chair of the National Association of Mutual Insurance Companies (NAMIC) and formerly served as Director and Officer of Habitat for Humanity Susquehanna. Linkous is actively fundraising for St. Baldrick's Foundation to support those suffering from childhood cancer and will shave his head for the cause in 2021.
Prior honors awarded to Linkous for his dedication to enduring service and commitment to the community include The Greater Bel Air Community Foundation Thomas P Broumel Memorial Award, the State of Maryland Governor's Volunteer Service Award, the Boy Scouts of America Good Scout Award, and the Bel Air Rotary Paul Harris award. See all the winners here: https://thedailyrecord.com/most_admired_ceos/winners/