Harford Mutual Insurance Group Announces Re-Election of Two Board Members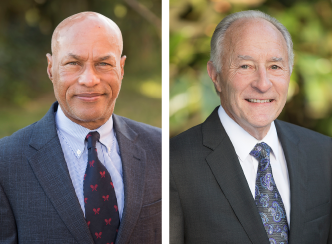 Harford Mutual Insurance Group's Board of Directors approved the re-elections of Vernon A. Reid Jr. and Spencer M. Roman at the annual policyholder meeting held in May 2021. Both were re-elected for three-year terms.
Reid has been a board member since 2019, and currently sits on the Board's Audit and Investment Committees. He is a retired investment professional, serving as Vice President at T. Rowe Price and as a principal partner of V.A. Reid & Associates, a fixed income asset management firm. Reid attended the United States Naval Academy, holds a bachelor's degree in business administration from Towson University, and an MBA from Indiana University.
Roman has been a board member since 2012, and currently sits on the Board's Audit Committee and serves as Chair of the Compensation Committee. He is the former senior vice president at Harleysville Insurance. Roman is a Drexel University graduate, an Associate of the Casualty Actuarial Society, and a member of the American Academy of Actuaries.