Harford Mutual Insurance Group Announces Retirement of Longtime Board Member Clarence C. Boyle Jr.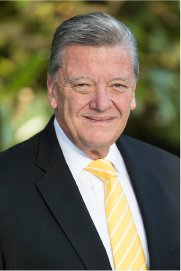 Harford Mutual Insurance Group announced that Clarence C. Boyle Jr. has retired from the company's Board of Directors.
Boyle has served on Harford Mutual's board for more than 21 years. He took over the seat held by his father, Clarence C. Boyle Sr., in March 2000 and retired from his service on May 19, 2021, at the Annual Meeting of the Policyholders.
During his tenure, Boyle has been a devoted board member, serving as chair of the Governance, Nominating, and President Search Committees.
"Over the past 21 years, Chuck has been a tremendous asset and supporter of Harford Mutual and our mission and strategies," said President & CEO Steven D. Linkous. "We have valued Chuck's contributions, guidance, and counsel for more than two decades, and it is hard to contemplate not having him on the Board," said Linkous.
Boyle, a Harford County native, has served on several boards and community organizations over the years. He spent nearly 50 years in the automotive business before retiring from family-owned and operated Boyle Buick GMC in 2018. He remains Chairman of the Board. Boyle Buick GMC has received numerous awards over the years, including most recently being named the Top Buick Dealership in Maryland in 2020.