Harford Mutual Insurance Group Names Two New Officers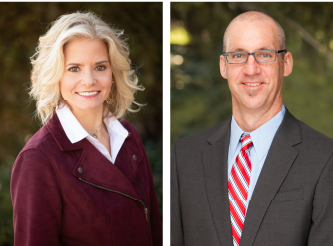 Harford Mutual Insurance Group announced that its Board of Directors has approved the promotions of two employees to officer level as Assistant Vice Presidents.
Stacey A. Rebbert has been promoted to Assistant Vice President, Marketing & Corporate Communications. A marketing professional for 35 years, Rebbert joined Harford Mutual in 2013 as Marketing Manager and was promoted to Director of Marketing & Corporate Communications in 2018. Rebbert developed the strategies behind the company's brand management, created the company's crisis communication plan, and leads her team in the execution of all digital marketing, advertising, employee engagement, public relations, community relations, and corporate communications.
Rebbert holds a bachelor's degree in mass communications from Towson University and a master's degree in contemporary communications from Notre Dame of Maryland University. She has completed the Harford Leadership Academy and the Towson University Professional Leadership Program for Women. Rebbert served as a board member of the Insurance Marketing Communication Association and currently serves on the board of the Rockfield Manor Foundation. She is also a mentor for Towson University's Outstanding Young Women Leaders Program.
Patrick J. Gagen, SPHR/SHRM-SCP, has been promoted to Assistant Vice President, Human Resources. Gagen joined Harford Mutual in 2015 as Director of Human Resources. He's been at the center of several strategic initiatives, including new talent acquisition, leadership perpetuation planning, and employee retention. As Assistant Vice President, Gagen will continue to oversee benefits administration, compensation management, training and professional development programs, and the implementation of internal policies and procedures. Gagen has over 18 years of human resources operations experience. He earned his bachelor's degree in business administration and master's in human resource development from Towson University. Gagen is a member of the Society for Human Resource Management (SHRM) and Chesapeake Human Resource Association (CHRA). He has also achieved his Lean Green Belt Certification, SHRM Senior Certified Professional (SHRM-SCP), and Senior Professional in Human Resources (SPHR) designations.