Harford Mutual Awarded the 2016 CPCU Employer of the Year Award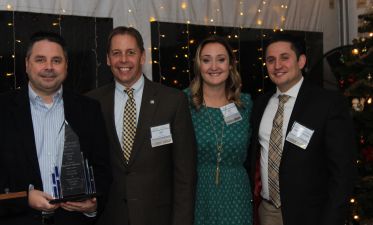 Harford Mutual Insurance was excited to receive the 2016 Employer of the Year award from Maryland CPCU Society Chapter, Inc. during their Annual Holiday Party and Awards Ceremony this past December at Country Club of MD.
This award is in recognition of an employer for their support they provide to employees in earning their CPCU (Chartered Property Casualty Underwriter) designation, as well as their involvement in the CPCU Society throughout the year. In order to achieve this prestigious designation, designees must pass extensive national exams covering such topics as insurance law, history, contracts, property insurance, liability insurance, operations, rate making, and risk management, as well as business courses in finance, corporate structure, and ethics.
During 2016, Harford Mutual had seven employees earn their CPCU designation. On September 27, 2016, Alison Barry, Mike Borzatti, CJ D'Alessio, Jack Griffin, Laura Kurrle, Mike Surell, and Ed Yingling were welcomed into the MD CPCU Society Chapter during the 66th Annual Conferment Dinner and Recognition Ceremony. Caty Hartley, MD CPCU Society Chapter President said, "We are very proud and honored to have these individuals represent the Maryland CPCU Society Chapter."