Harford Mutual marketing team receives two Awards of Excellence from the Insurance Marketing & Communications Association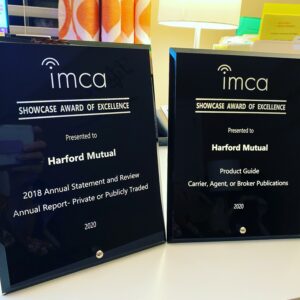 The Insurance Marketing & Communications Association (IMCA) Showcase Awards recognize innovative work in insurance marketing and communications. The Harford Mutual 2018 Annual Statement and the Product Guide were judged on target audience, objectives, and results. Each earned an Award of Excellence in its respective category. The pieces were among 160 entries received by the IMCA.
The annual statement presented financial results and cultural highlights for the year. A supplemental insert featured employee achievements and community outreach in 2018. The piece emphasized the stability and collaborative focus of Harford Mutual to all stakeholders, including policyholders, agents, employees, and community partners.
The product guide detailed underwriting criteria, eligible lines of business, additional coverage options, and commonly written classes of business while highlighting RapidWrite, an online quoting system, allowing for quicker quoting and turnaround on referrals in four business hours or less.
Senior Vice President of Marketing and Business Development Jeff Rink congratulated the Harford Mutual marketing team, saying "The 2018 Annual Statement and our most recent Product Guide are just two examples of the tremendous effort this team puts forth on a consistent basis. I strongly believe we have one of the top Marketing and Communications teams in the business."
The IMCA represents over 120 regional and specialty companies, general agencies, industry suppliers, and prominent multi-line insurance companies and brokerage firms, as well as the top five property and casualty writers in the U.S.